Water vapor therapy
A new treatment for benign prostatic hyperplasia
Water vapor therapy is a new treatment procedure for benign prostatic hyperplasia (BPH), which causes problems with urination. Instead of traditional methods such as electric snare or laser ablation of the tissue, water vapor therapy uses water vapor to destroy the prostate tissue that constricts the urethra within the prostate.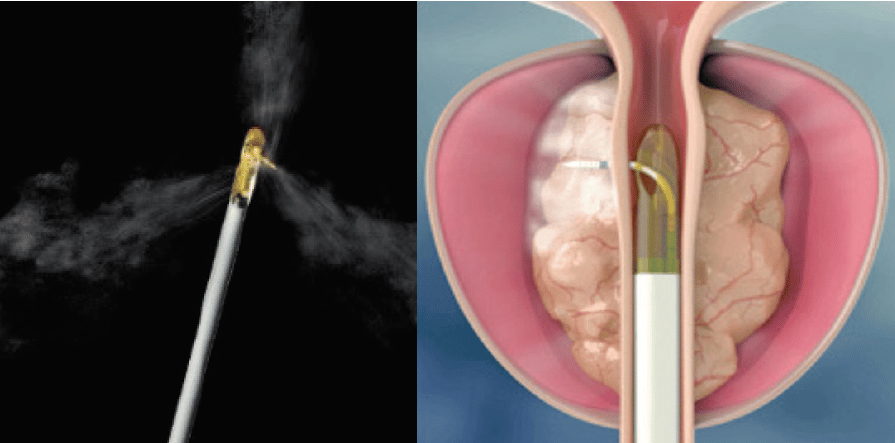 Unlike traditional procedures, water vapor therapy carries a lower risk of side effects such as loss of ejaculation or incontinence. Precise treatment planning is enabled by high-resolution prostate MRI images, which provide the exact location of the area to be treated in relation to important anatomical structures such as the bladder sphincter, bladder floor, and bladder neck. The actual delivery of water vapor therapy is done in real time through an ultrasound transducer in the rectum, which allows for precise and safe therapy.
Water vapor therapy at the VITUS Privatklinik Offenbach
If you suffer from the consequences of prostate enlargement, find out about steam therapy at VITUS Privatklinik.

We will be happy to advise you.
Water vapor therapy in the
VITUS PRIVATE CLINIC
Exclusion of prostate cancer, optimized treatment planning and real-time imaging of ablation.
The control of the treatment success and the exclusion of complications are performed by an MRI examination on the day after the steam therapy. This allows the treated patient to be discharged without risk. Overall, water vapor therapy offers an advanced treatment method for benign prostate enlargement that provides improved accuracy, safety, and treatment control.